NED 1378 – Ready for racing
Price: €6900
Ready for racing
Build in 2007
Including:
New Mast (new price: €1789) with new mast track
1x new jib (used a few times, good as new)
1x main sail, used for training
1x old green gennaker (used a lot, old)
New sheets
Nieuwe halyards to hoist the sails for: mainsail, jib and gennaker
2x set of uppercover and lower cover (grey and red) of which one set is new (new price: €520)
Beachtrolley and roadtrailer
Spare wheal for roadtrailer and lock for the trailer
Rudder and daggerboard with cover
Various spare parts and materials
Ovington rigbag
Non-adjustable front stay with tension adjuster

More:

Trim ropes made of Dynema, recently replaced
Swiftcord sheets (Gottifredi Maffioli)
Harken mainsheetblock
GRP rudder and daggerboard
Exclusive, but available in consultation about the price:
1x new main sail (for racing, new price €1000)
1x new jib (new price €500)
1x new pink gennaker (used only once, new price: €1000)
The boat is in good shape, has a keen hull with few scratches and we
always stored the boat inside when not in use. I have never had any
trouble with water inside the hull, no leaks, fantastic racing. The Carbon gennaker bowsprit is recently (June 2019) professionally coated. The boat is directly available and you can view (and pick up) in Haarlem, The Netherlands.
Please contact me for any questions: loes.eijkman@gmail.com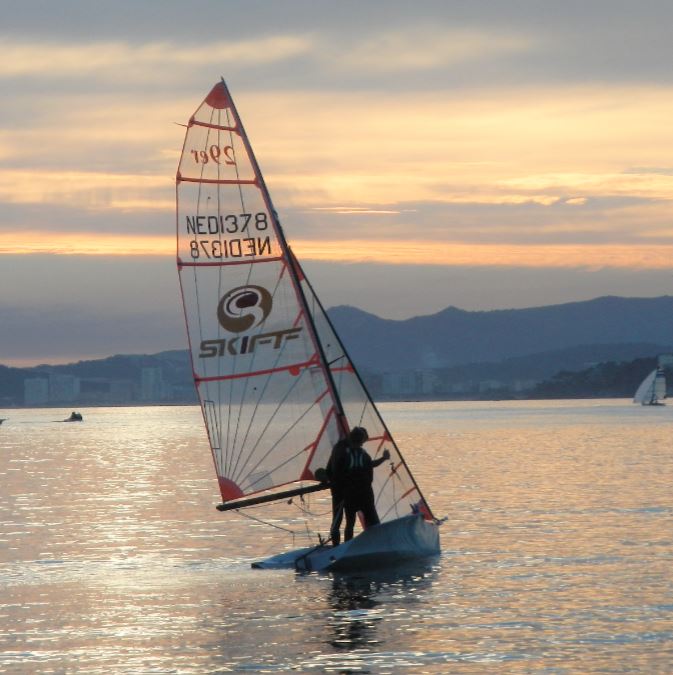 Email
loes.eijkman@gmail.com